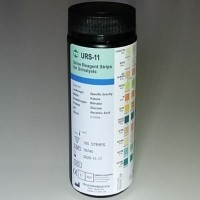 Urine Test Strips with Vitamin C/Tariff:382200 Origin:USA
SKU URS11WAY
Product Details
Urine test strips, 11 parameter.
INCLUDES VITAMIN C (ASCORBIC ACID) INDICATOR PAD
For bilirubin check you want low body Vitamin C levels (<25mg/dl) to eliminate false negative results.
For checking good biological level of Vitamin C for health, you want to see 50mg/dl or greater.
The pad on this strip allows you to do this which eliminates having to have a 2nd Vitamin C test strip or test drops.
These dip sticks can check for:

Blood in urine (hemolyzed & non-hemolyzed)
Urobilinogen
Bilirubin
Protein
Nitrite
Ketones
Ascorbic acid
Indicator used for 2 things:
1. whether there is a potential false negative reading for bilirubin
2. whether there is adequate vitamin C level in the body.
Glucose
pH
Specific Gravity
Leukocytes in urine
Save this product for later