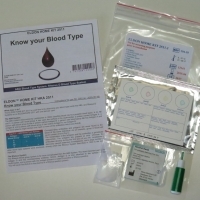 Blood Type Test Kit 50 pack /Tariff:300620 Origin:Denmark
SKU BKIT50
Product Details
Blood type test kit. Everything you need to test blood type and RH factor; instructions, card with type reagents, pipette, cotton swab, alcohol prep pad, lancet, mixing sticks.
Has plastic card cover so card can be saved as a record of blood type.
This is a 50 pack for classrooms, stores, and practitioner use.
Save this product for later